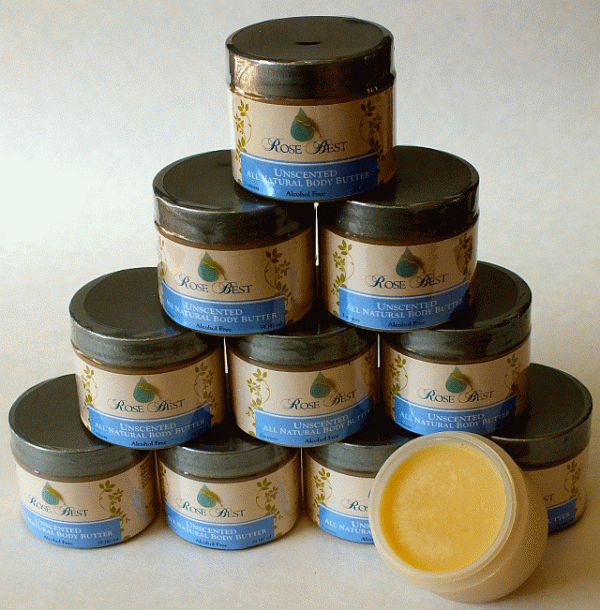 All Natural Body Butters
Soothing and moisturizing. Body butters are luxurious, you need a very small amount so the jar lasts a long time. They are all made with 4 amazing butters-Kokum, shea, mango and cocoa butter. They have 4 great oils- jojoba, avocado, rice bran and wheat germ oil. It has the added benefit of Vitamin E. Body butters are good for any dryness in the skin, they keep you moisturized even after you wash your hands. You just need it once in the morning and once at night. Butters are emollient and soothe sensitive skin. It is a much firmer butter than elsewhere which helps generate heat and feel warm. What a wonderful way to pamper your skin.
No Alcohol, No Parabens, SLS or Phthalates.
Available in 1oz, 2oz and 4oz size.
Available in 13 scents- choose your scent and size from the dropdown box. See description for each scent in the description box below.
Description
Vitamin E has been used for years to soothe the skin, Kokum butters are great for that moisturizing feel. Shea Butter is known to soothe the most sensitive skin, it is moisturizing and nourishing, Mango butter takes care of cuts and makes you look smooth Cocoa butter is an emollient and helps soothe the skin. Jojoba oil is known to help retain moisture, avocado oil has excellent penetrating properties, rice bran oil is a well kept secret to great looking skin and wheat germ oil is gentle to the skin.
Dreamy Lavender – Most Popular- This is a great body butter that makes you feel relaxed, soothing and known to calm Lavender with A hint of Vanilla makes it sensual and it is said to help during sleeptime.
Harmony- A beautiful blend of Patchouli, Bergamot, Ylang Ylang Essential oils and Vanilla Fragrance oil.
Jasmine – The alluring scent of beautiful and mysterious jasmine flower.
Lemon Sage & Ginger- Most Liked-Blend of Lemon, sage and ginger giving a fabulous scent that is fragrant and just amazing.
Lilac- Most requested– Lavishing lilac radiantly blossoms with beautiful buds of sweet rose and delicate lily of the valley.
Love- Loved by many, hence the name– Blend of Ylang Ylang, Sandalwood, Vanilla and Rose. Feel sensual and relaxed at the same time, a favorite amongst all, it stimulates and tones the skin.
Morning- Orange and Vanilla. Fresh and fruity with vanilla to add a sensual feel.
Patchouli and Vanilla-Rich and sensuous & a charming fragrance, great for men and women. A lovely blend of Patchouli essential oil and Vanilla Fragrance oil.
Pink Grapefruit and Lemongrass- Most Popular-An Uplifting Blend The perky aroma of a freshly squeezed sweet and juicy grapefruit and A refreshing bright zip of lemon with notes of green. Pink Grapefruit and Lemongrass are essential oils added to this mix.
Relaxing – Blend of Jasmine, Sandalwood and Orange. Jasmine is said to be an aphrodisiac that helps uplift you and aid in sleep, Sandalwood is said to aid in meditation and brings balance, orange is said to bring clarification and this special combination helps you relax.
Rose Geranium- Best for Sensitive Skin- Do Not Use if Pregnant– Fresh roses and geranium. A beautiful stimulating scent.
Unscented- Soothing and moisturizing. This is not scented and is lovely on the skin.
Vanilla Buttercream – A rich blend of fresh churned butter, sugar, and creamy vanilla bean.